30309 dentist
If you are looking for a dental practice that provides complete preventive dental care, you should come to our dental office, Peachtree Smile Center. Our
30309 dentist
, Dr. Evis Babo, offers a wide variety of dental services for our patients including preventive dental care.
At our dental practice, our 30309 dentist offers complete dental exams to make sure that our patients' teeth are remaining healthy. These dental exams are very important because they can find dental problems while they are still small and can be easily treated. In fact, many of our patients find that preventive dental exams are actually cost-effective because it is easier to treat a dental problem while it is still small. For example, if a small cavity is found, it is much easier to treat this, rather than wait until the pulp of the tooth is infected and needs to have a root canal treatment in order to be saved. Preventive dental exams will also screen your mouth for any signs of oral cancer. Our dentist will also be able to assess the health of your gums. If our dentist finds that your gums are inflamed it means that you have gingivitis. When this is the case, our dentists will most likely recommend that you have several regular dental cleanings over the coming months in order for your gums to return to excellent health. If our dentist sees that deep pockets have formed between your teeth and gums, it means that you have gum disease. At this point, you will need to have a periodontal scaling and root planing treatment to help the pockets to reduce in size. It is very important that deep pockets are treated, since gum disease will not go away by itself; the deep pockets and any present infection will only worsen until it is treated.
For an appointment to see our
30309 dentist
for dental exams and preventive dental care, contact us today.
By Peachtree Smile Center LLC
September 14, 2017
"Keeping Smiles Healthy through Care and Prevention"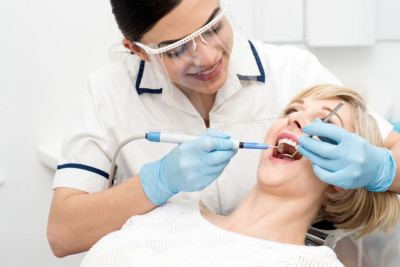 Blog Posts
Follow Us